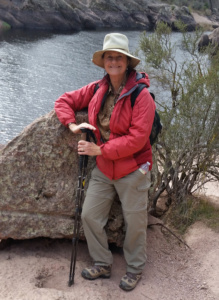 My knowledge of dispersed camping and my tips and stories of discovery, are here to make your personal camping experience richer and more fun. Over 40 years of camping forms the foundation of this blog – from sleeping in a 2 man tent while backpacking in the Sierras, to the bed of a 4×4 pickup truck, to the luxury of an truck camper. Exploring the back country in our 4 wheel drive truck is my favorite mode of reaching remote areas to boon-dock. I don't find camping in a developed campground, parked next to a huge RV with its generator growling, as my style of escape. If dispersed camping in the wilderness is your style, then I have lots of info here to help you plan your next camp out so you can "know before you go."
From the desert to the Pacific coast
Back roads along the rugged California coast line are near and dear as they afford breathtaking views of the Pacific Ocean and a milder climate. Camping along the coastline is beautiful year round, whereas camping in the desert is most enjoyed in the cooler months – November through April.
I love the desert, which is not where the majority of folks desire to camp – so perhaps you are in the minority with me and understand the call of the desert with its varied geology, dark starry nights, blessed quiet and surprising oases (yep, the plural for oasis).
"There is something infectious about the magic of the desert. Some are immune to it, but there are others who have no resistance to the subtle virus and who must spend the rest of their lives dreaming of the incredible sweep of the dunes, of golden mesas with purple shadows and tremendous stars appearing at dusk from a turquoise sky. Once infected, there is nothing one can do but strive to return again and again." – H. Wormington
My personal journey as a camper
I was not raised a camper, though I grew up loving the outdoors, riding horses or building my own tree house. My introduction to camping began when a handsome young man invited me to a college group's rock climbing trip in Joshua Tree National Park. After asking me to marry him, our first vacations were backpacking in the Sierra Nevada mountains, usually along the John Muir Trail. As our family grew with three children we tent camped and hiked with them, later introducing them to backpacking as they got older.
After our kids were grown we discovered sleeping on an air mattress inside a camper shell on the back of our truck as more comfortable and did this for nearly 20 years. Most recently, we have purchased a truck mounted camper and are loving the luxury it affords as we plan to travel across the U.S.A.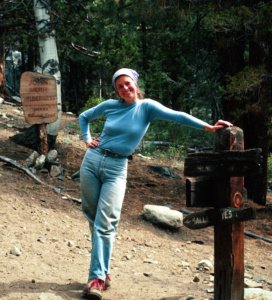 For the love of creation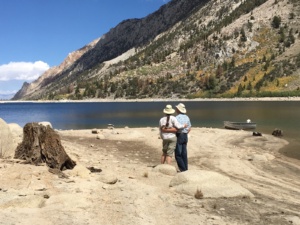 As always in life, I have faced many challenges, some of them directly due to my love of the outdoors. The miracle of my rescue from drowning in the Kern River, directly influenced my desire to write and thus the birth of this blog.
I switch between using "my" and "ours" as my husband Pres, and his vast know how of 4×4 driving and the great outdoors give this blog a firm foundation for my research and stories for you.
My journey as a camper has been an evolution and it is our desire to continue camping as long as we are physically able. My heart is to share a legacy of my love of camping with baby boomers as well as the newest generation of campers who utilize the latest technology.
The back roads provide escape from daily life to renew the soul with God's creation. The wilderness gives me perspective to "be still" and a thrill in my heart for the awe of its beauty. I will be sharing adventures along with lessons learned, in hopes that you will be encouraged to discover "making trax" of your own.