Percolated coffee is a great way to enjoy a good cup of joe while camping out. We used an aluminum pot for years but decided it was better for our health to upgrade to stainless steel.
We found the perfect percolator for us in the Coletti Bozeman coffee pot. It has a glass globe for watching the coffee perk to just the right color and flavor. The rosewood on the handle makes it easier to handle the hot pot for pouring. You can choose between a 9 cup or 12 cup size coffee maker.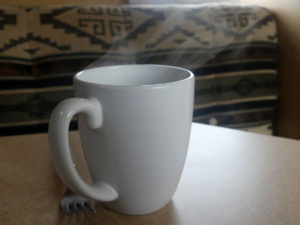 This unit comes with 20 disc filters to keep the grounds from getting in your mug. The inside filter unit is easy to fill and clean. The coffee tastes great every time when we use this well-made coffee pot. No batteries or electric cords are needed to make your coffee as this simply heats on your cook stove or campfire.
Rugged enough for the seasoned outdoorsman. Beautiful enough to earn a place in the kitchen. Take this durable pot anywhere. Our recommended Coletti brand pot is sold by a veteran-owned small business that donates its profits to charity.
Ditch the cord and taste the difference! Shop for your Coletti "Bozeman" Percolator Coffee Pot on *Amazon.
Replacement disc filters come in a pack of 100.
*Just so you know, this blog site includes affiliate links, which means if you click through and make a purchase we may receive a commission (at no additional cost to you). We only share and review items we use and work well for us.